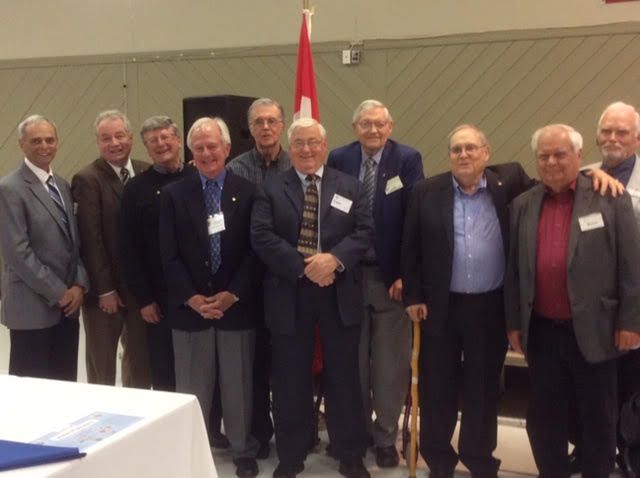 More than 140 members and guests attended the dinner and program in celebration of the
25 th Anniversary of our Club Saturday evening May 25, 2019. Following a social hour,
the meeting was called to order by Master of Ceremonies, Rad Michielson, .
Rad made some introductory announcements and introduced Don Eyre to once again lead
in the singing of O Canada. Rad then entertained with some evening smiles.
He called on President Ken Ritz who reviewed the strong steady membership growth of
the Club over the past quarter century when it began with 47 members to the present 110
and a further five members to be inducted at this meeting. He introduced and thanked
John Gates, Chair of the Anniversary Committee, Alex Duthie, Rad Michielson and other
members of the Anniversary Committee for assembling and preparing placemat photos,
the video slide presentation and other memorabilia relating to our Club's history. He also
introduced the members of the Club's 2019 Management Committee. John Gates
introduced his planning committee and thanked them for their efforts over the past few
months in making the Anniversary celebration successful.
Rad introduced a guest, Peter Knowlton, representing the Saugeen Shores Mens's
PROBUS Club, which, originally named the PROBUS Club of Port Elgin, sponsored the
Kincardine Club. Peter brought greetings and congratulations.
Our Club has also, in turn, sponsored two clubs. Don Warner was introduced as a guest
from the Windsor-Essex Men's PROBUS Club, Helen Pepper and Karen Farrow from
the Hanover and Area Combined PROBUS Club. They described the development and
growth of their respective clubs, with Hanover currently having approximately 250
members just five years after receiving their charter.
Ken read a letter of congratulations from Bob Boone, immediate past-president of
PROBUS Canada who apologized for a prior commitment preventing his attendance this
evening.
Also, a guest at the head table was Jim De Zorzi, District 5 Director, PROBUS Canada
who spoke about the growth of the organization's membership throughout Canada and
urged that we continue to promote the fellowship and social benefits by helping new
clubs to form. He presented Ken with a plaque from PROBUS Canada acknowledging
our 25 th Anniversary.
Rad called on Ken Ritz and Jim De Zorzi to present the membership pins and booklets to
5 new members President
Ken and Director Jim De Zorzi congratulated, Gord Bradley, Don Eyre, Jack
Hackett and the first Club President Bill Turvill, presenting them with 25-year
membership pins. Ron Harris, who joined the Club in its initial year, and later became
the Club's second President, also received a pin in recognition of his 25-year
membership.
Jack Tully, our only Life Member, was introduced and recognized for 17 years of service
to the local Club.
Following an intermission, the audience was entertained by a quartet of talented local
musicians, The Pleats, who received enthusiastic appreciation for their vocal and
instrumental presentations.