Message from the President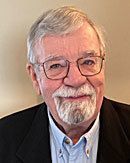 By President Robert "Bob" MacNair
I am grateful for the confidence that the Board of Directors has given me to serve as PROBUS CANADA's President for 2021-2022. I am also very proud to follow in the footsteps of PROBUS Pioneer, Bernard "Bud" Crookes. Bud was a Founding Member and First President of the PROBUS Club of Collingwood (Club #4) that was Chartered on October 22nd, 1987. He was a former Treasurer of PROBUS CENTRE- CANADA which was incorporated on August 1st, 1995 and was its Chairman from 1997-98. Bud was involved in the promotion of 15 Clubs in Simcoe and Muskoka Counties and in Port Elgin on the shores of Lake Huron. Bud was also a recipient of the John R Morris Award. He and his wife June, developed and published the first International Web Page in 1996. Bud passed on April 5th, 2019 and June followed shortly after on May 17th, 2019. The last year has been very challenging for all of us due to the COVID-19 Pandemic. As our PROBUS Clubs were founded on the "principle of fellowship", it has been especially disappointing for all of us that we cannot meet our fellow members "in person".
To help cope with these challenges, Ontario District 4 Director, Martin Capper, and PROBUS Club of Cambridge Member, Dan Clements, initiated our Zoom Support Program. This Program has been very successful. We have 21 Mentors who have volunteered to help our Clubs across the country use Zoom as a way of reaching Club Members with Monthly Meetings and several Club activities like Book Clubs, Trivia Nights, Bingo, Wine-tasting, Happy Hours, Coffee Chat Groups, Card Games, Cooking Clubs, etc.
The Zoom Support Team is helping Clubs learn about possibly holding "Hybrid Meetings" in the future. These are Meetings where a limited number of Club Members could meet in their usual venue "in person", while other Club Members would continue to participate via Zoom. Of course, we all look forward to the day when we can all again meet "in person".  I want to congratulate the leadership of our Club Presidents and Members of Management Committees who have continued to serve their memberships by regularly contacting members via emails, "phone contact programs", and Monthly Newsletters which share recipes, puzzles, humour, recognition of Birthdays etc. and also include pictures of outdoor activities that follow the protocols of Provincial and Health Region Guidelines.
The changes to our Board Executive for 2021-22 include the following. Jamie Doolittle becomes Past President. Jamie has worked tirelessly throughout the year to serve all of us. In many ways, his year, as President, was possibly even busier than usual and it was very unfortunate that his opportunities to visit Clubs were extremely limited. Our Past President, Marlene Pearce, will serve one more year on the Board of Directors as Director of the Atlantic Region. I thank Marlene for her guidance and for the many hours that we discussed PROBUS issues on our telephones. Keith McGregor, Director of British Columbia District #1, will continue to serve as our Secretary. Martin Capper, Director of Ontario District 4, has taken on the role as our Treasurer. Brenda Andrews is our Vice-President. She has been very active in promoting new Clubs. Brenda is the Director of Ontario District 2, which is the largest District in PROBUS CANADA with 34 Clubs.  Our Board of Directors had one major change this year. Bob Boone has retired after serving for 6 years. He contributed a great deal over that time. He was instrumental in bringing about our new National Website. Bob was our 2018-2019 President. We welcome Bob's replacement, Bill Willson, as the new Director of Ontario District 3. Bill is a member of the PROBUS Club of Burlington Lakeshore. We had a very major change to our Support Staff. Gordon Hutton retired as our Financial Manager. We thank Gordon for his many years of service and expertise that he has given to PROBUS CANADA.
We welcome his replacement, Doug Cucheron. Doug is a member of the PROBUS Club of Vancouver.
We thank Reg Whynott, our Managing Director, for his ongoing service. Reg deals with the everyday operations of our Society. He has been my Mentor since I became a Board Director in September 2017.
It was March 2020, when COVID-19 challenged all of us. We had two new Clubs Chartered earlier in the year: Port Stanley in February and Bobcaygeon in March, 2020. Several other Clubs were in the process of becoming members of PROBUS CANADA. Those were, of course, all put on hold. When we return to more normal times, we hope to see a growth in both the number of Clubs and in overall membership. It is interesting to note that 49 Clubs reported an increase in their membership for the 2021 year.
On a personal note, my wife, Diane, and I moved to Collingwood from Brampton in July, 2009. I retired after 37 years of teaching Grades 1-8 for the Peel Board of Education and taught in Mississauga, Brampton and Caledon. Diane was also an elementary school teacher. I belong to the two Men's PROBUS Clubs in Collingwood and was the President of the PROBUS Club of Collingwood 2016-17. Diane is a member and Co-Chair of Membership of The PROBUS Club of Harbourlands, one of the three Collingwood Women's Clubs and together we are members of the PROBUS Club of Mountain View, Collingwood. Diane and I have a blended family of 4 sons and 7 grandchildren and, like so many of you, we have truly missed seeing all of them and sharing Birthdays and Seasonal Celebrations during these very uncertain and stressful times due to the COVID-19 Pandemic.
We all look forward to the days when we can again be with all of our family members and also experience the wonderful opportunities that our PROBUS Clubs can offer for all of us
         FELLOWSHIP --- FRIENDSHIP --- LEARNING --- and most of all … FUN!
                                 GET CONNECTED - STAY CONNECTED !