PIONEERS IN CANADA 1985-95
ORIGINAL MEETING OF REGIONAL AND MEMBERS AND OFFICERS APRIL, 1996, AFTER INCORPORATION (FOR PRIOR, SEE PIONEERS 1985-95)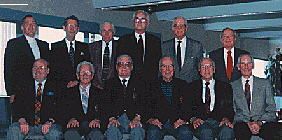 Front row left to right: Jim B. Wortley, (Langley, B.C.), Ronald T. Lake, (Burlington, Ontario), John R. Morris, President and Executive Director, (Alliston, Ontario), Bernard D. (Bud) Crookes, Treasurer, (Collingwood, Ontario), Carl H. Ingebertson, Secretary, (Brampton, Ontario), A.F. (Bert) Klinkhammer, Chairman, (Cambridge, Ontario)
Second row: Glenn Grosset F.C.A., Auditor, (Clarksburg, Ontario), Ralston H.H. King, (Moncton, New Brunswick), George Grummett, (Burlington, Ontario), Bruce Ferguson, Q.C., (Alternate), (Calgary, Alberta), Hal Passmore, (Brockville, Ontario), Evan (Bud) Casey, (Edmonton, Alberta)
Absent:
William Edwards, (Southampton, Ontario)

Rick Buck, (Langley, B.C.)
---
John Morris' success with Probus has largely been with assistance and support from a number of persons from 1985 up until Probus Centre was incorporated in August, 1995. These among others within Probus Clubs, may be considered the PIONEERS of Probus in Canada, and are listed below with their attributes, (including firstly John and his wife Doris.):
CLICK ON NAME FOR THEIR CONTRIBUTION...